You NEED to Write Private Wedding Vows . . . Here's Why
This page includes affiliate links. As an Amazon Associate I earn from qualifying purchases. Read more on our Affiliate Disclosure.
Too many married couples out there have shared the same unfortunate wedding day experience: a hazy, frantic blur of a day that goes by too fast and quickly fades into a cloudy memory. Your wedding day is supposed to be one of the most special days of your life, an experience you want to cherish for many years to come. But there are a few traditions that are holding couples back from creating the experience they TRULY desire. One of those traditions in need of a little tweaking is the vows. It's time to rethink how we should make our wedding-day promises.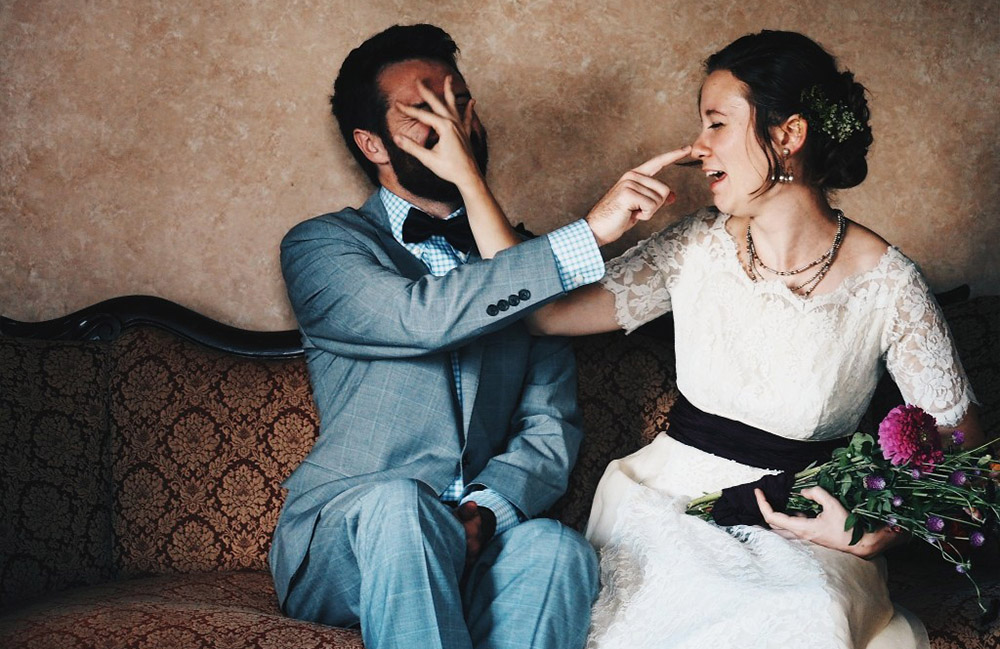 The Traditional Method
Wedding vows are spoken during the ceremony by the couple, in front of the crowd of witnesses. Often, the officiant will speak the lines first, having the bride and groom repeat each line after him or her. Vows are sometimes personally written, but oftentimes are chosen from pre-written, tried-and-true lists.
Vows have been spoken this way for many years, and legally, you do need to make some sort of vow in front of your witnesses in order to tie the knot. But here's why traditional vows tend to fall a little short of your wedding-day dreams:
Pre-written vows are convenient, but they don't truly reflect your personal relationship and the promises you want to make to one another.
Repeating after an officiant certainly works, but it makes for an awkward third-party interference into something that should be a special connection between the couple.
Many couples may dream of writing their own vows, but are nervous to read something so private in front of the crowd, so they ditch the idea.
Logistics sometimes fail: high winds or glitchy microphones make it difficult for your audience to hear you speaking during your vows.
A Unique Solution: Private Vows
As wedding videographers, my husband and I have seen a wide spectrum of wedding days. Some have been frantic and stressful; others have been chill and heartfelt. Undoubtedly, some of the most special weddings we have filmed have been the ones where the couple read private vows to one another.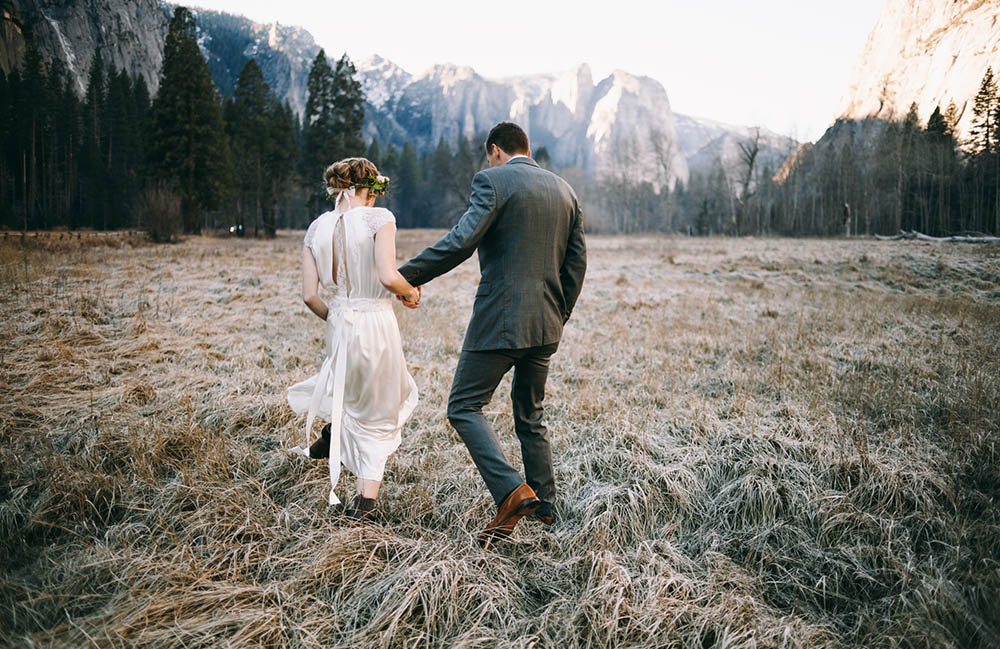 Think about it. This is YOUR special day. It's not your job to entertain people, to impress them, or to put on a show you think they'll like. A couple deserves to ENJOY their wedding day. And what better way to make the day special than to make your most sacred promises to one another in private: away from the crowd, away from the stress.
And from a practical standpoint, it's just plain better for your wedding video. If you're hiring a videographer to capture your special day, here's a little secret: those incredible videos you've scoured on Youtube, the ones where the bride and groom are narrating the clips with their beautiful, sincere feelings toward one another? Those narrations were recorded during private vow sessions. Almost always. Traditional vows will work in a video, but they won't be nearly as gorgeous and powerful as vows said in private. Private vow sessions allow your videographer to capture the best quality sound – eliminating background noise – and they allow you to pour your heart out without the anxiety of speaking in front of a crowd.
Ready to get your Wedding Registry started?
There's no better place to start your wedding registry than Amazon.com. With over 200 million active users and over 350 million products, Amazon has your perfect gift in stock.
The Structure of Private Vows
So when do you fit private vows into your day-of timeline? It can be tricky to coordinate this special time, but we would argue that it's 100% worth it, every time. Here are a few possible ways to incorporate private vow sessions in your wedding day.
Right After the First Look
If you're planning on doing a First Look session, schedule your private vows right afterward. Your photographer and videographer will already be there to capture your first look reactions, and they can transition right into the vow session easily.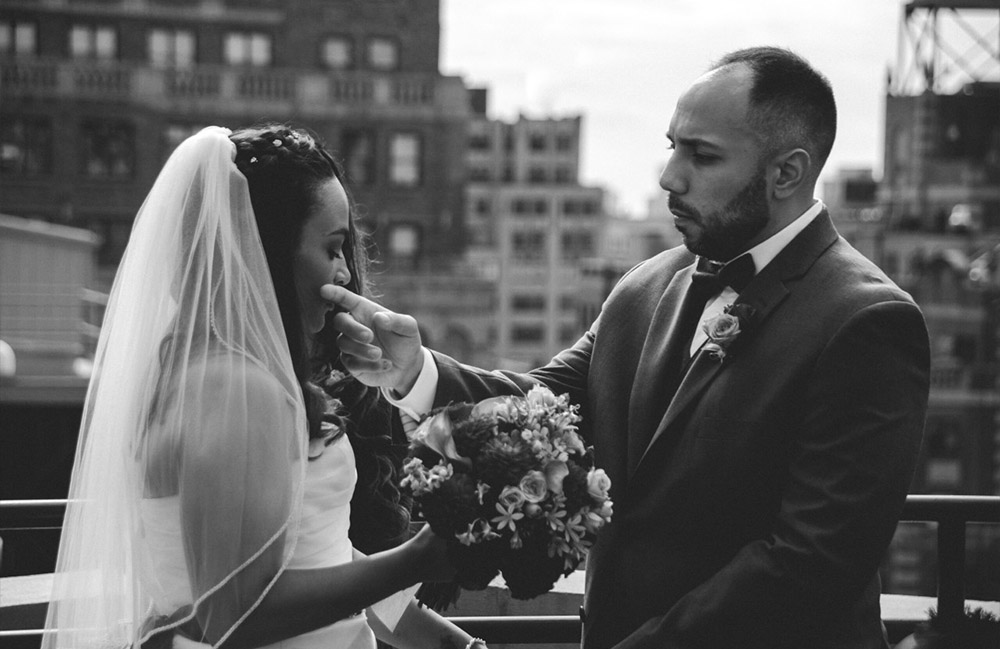 Around the Corner
If you're a traditional couple who wants your first look to happen during the ceremony, don't think you're excluded! Plenty of couples choose to have a time of prayer or to pass notes to each other "around a corner" (or through a doorway, on opposite sides of a tree or wall, you get the picture). Incorporate private vows into this unique structure, and you'll get the same beautiful connection – just without seeing each other face to face. It may even build more anticipation than a first look would!
During Portraits
Whether you're taking your photos before or after the ceremony, ask your photographer and videographer to carve out some time during your bridal portraits for your private vows. You'll already be together getting photos, and you can seek out a perfect spot to capture the moment.
The End of the Night
No one ever said your private vows must take place before the ceremony. If your pre-ceremony schedule is just too tight, save your private vows for later. Sneak away during the reception for a romantic moment of spontaneity. And while you're at it, share a private dance too!
Private Wedding Vow Books
The couples we've worked with all get these basic vow booklets from Amazon. They're simple, elegant, and photograph really well. The paper has a satisfying texture, and you'll love to look back through them for years to come. If you're looking for more of a keepsake vow book, check out these handcrafted books in black and white. Lastly, here's the most basic version we've seen – a simple brown paper cover.
What to Say
So how do you write private wedding vows, anyway? Here is the basic framework of vow writing:
Address your significant other. Talk about why you love them and why you're excited to be marrying them.
Talk about your relationship. What do you love about being together? What qualities do you admire in your significant other? Why do you think you make a perfect couple? What special memories do you share?
Make promises: mostly serious, but a little silly is okay, too. What do you promise to do every day in order to make your partner happy? How will you continue to love them, even when things are difficult? What silly quirks do you promise to incorporate into your marriage to make one another smile?
End with your hopes. What beautiful wish do you have for your marriage? If you're religious, what prayer do you bring as you start your new life together?
Your private vow is, essentially, a love letter full of promises. Write just as you would speak to your significant other. It's beautiful and heartwarming to use inside jokes, to bring up fond memories, to induce a little laughter. This is your chance to reach into each other's hearts and connect on the most intimate level.
The Perfect Balance
Private wedding vows are the perfect solution for any couple who's looking for a more intimate wedding experience. We know you love your family and friends, but the thought of reading a deeply personal love letter to your partner in front of a large crowd is positively gut-wrenching. Public speaking is terrifying for most regular people, let alone a bride and groom on their wedding day. Private wedding vows are perfect for many situations:
For couples who are a little shy, and don't want to spill their secrets to the whole crowd.
For couples who can't agree on pre-written or personally written vows.
For couples who are hiring a videographer (and who want an AMAZING highlight video to treasure)
For couples who are quirky and fun, with lots of inside jokes
For couples who desire the traditional feel of pre-written vows for the ceremony's sake, but still want their day to be personalized.
For couples who are getting married outside (wind and faulty or quiet microphones make it difficult for your guests to hear you during your traditional vows)
For couples who want their wedding day to be full of meaningful memories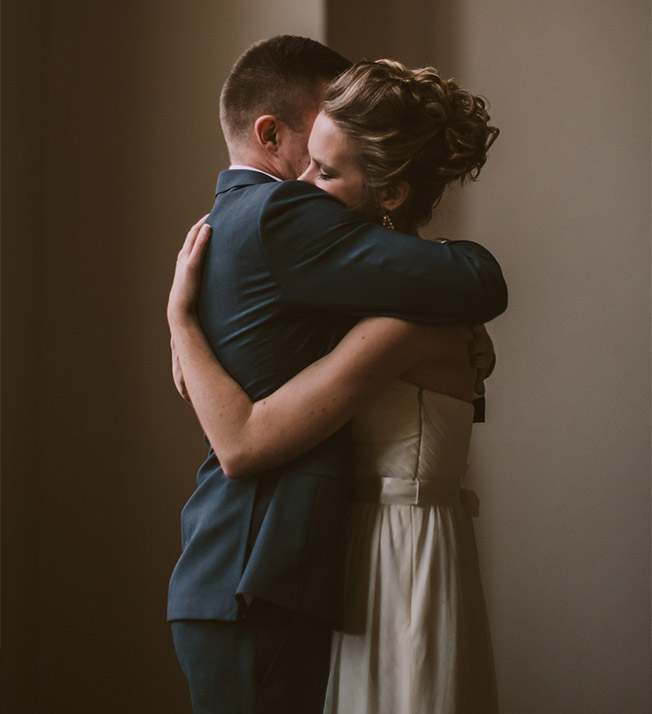 Make the Day Perfect with Private Vows
Your wedding day will fly by, no matter what. Find ways to slow it down and cherish the special seconds that you want to remember. A perfect way to carve out a meaningful moment in your schedule is to incorporate private vows. Trust us, you'll adore that beautiful memory forever . . . and your videographer will thank you for making their job just a little easier.
Check out our ideas for non-traditional wedding bouquets and great choices for aisle runners!