Comfortable Post-Ceremony Shoes for the Bride
This page includes affiliate links. As an Amazon Associate I earn from qualifying purchases. Read more on our Affiliate Disclosure.
You've said "I Do," and posed for the photos to prove it. You've made it up and back the aisle in those stunning heels (congrats!), and now the only thing on your mind is kicking out of those shoes. But what to change into? You've got a long night of celebration ahead of you, and you deserve to enjoy it in comfort. Prepare ahead of time by considering the shoes you want to stash away for after your ceremony.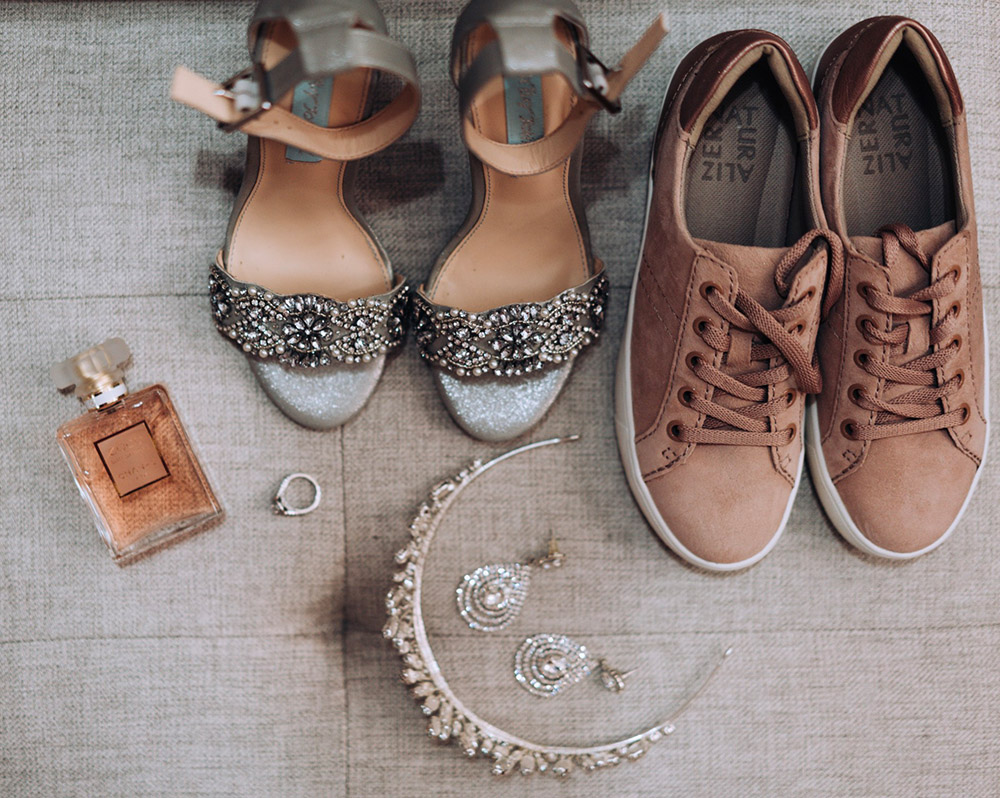 Choose Shoes for You
Whatever kicks you decide to sport at your ceremony, pick ones that reflect YOU. What type of shoes do you wear when you want to have fun? What type of shoes do you wear to relax? Consider your personal style and the themes you've got going on in your wedding. For this special day, you want to choose something that will make you feel cozy and calm – something ushers in the positive vibes as soon as you slip them on.
Sneakers
A nostalgic shoe for all of us, you can't do better than a pair of sneakers when you want to be comfortable, but in a practical way. Sneakers will allow you to move around your reception with confidence, giving you the foot support you need for the long night on your feet.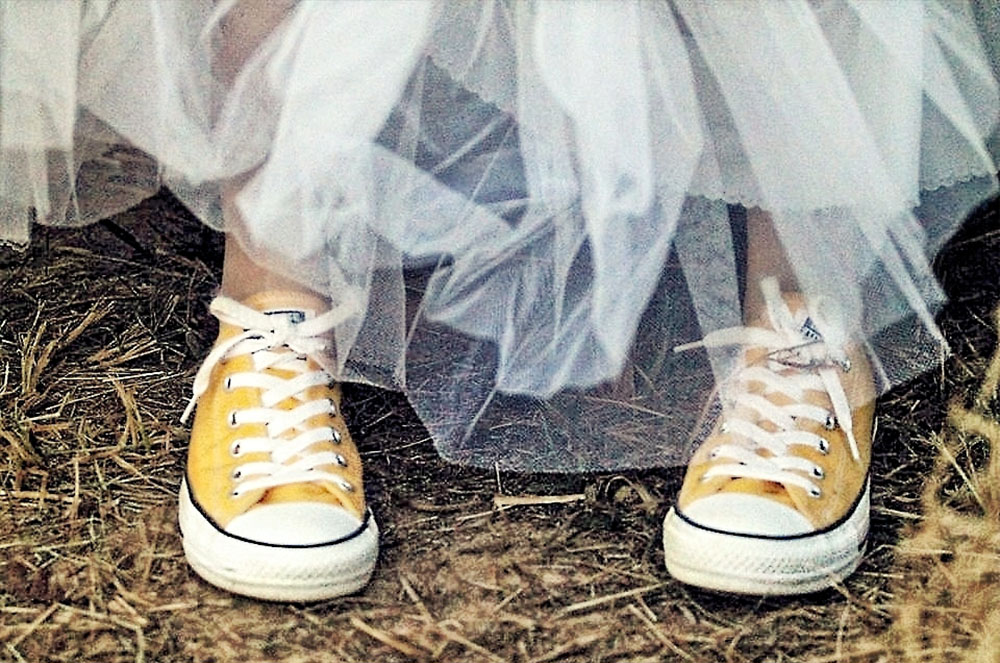 When it comes to classic look and trusted comfort, you can't beat a simple pair of Keds. You'll feel comfortable, but look chic.  Keds offers a variety of styles, like these beautiful Kate Spade Glitter shoes, which would look just as fabulous as whatever you wore down the aisle. If you're looking to make more of a statement, maybe a pair of rhinestone sneakers would more suit your style.
You could also take a more classic sneaker route and go with a pair of Converse sneakers. They're timeless, and a lot of brides choose to go with them because they're so comfy!
Or you could go all-out with a pair of personalized sneakers. Make your post-ceremony shoes a special memento that will remind you of this day for years to come.  Personalized wedding sneakers – complete with your new last name – will bring you comfort in a memorable way.
Crocs (they're great shoes!)
If sneakers don't really fit your vibe, maybe crocs do. A Classic Clog is the epitome of comfort, and you can wear it again for years to come. If you still want to look the part (but feel the relaxation), Crocs also sells more traditional-looking shoes, like their Brooklyn High Wedges (or the alternative Low Wedge for those trying to avoid the heels).
Flats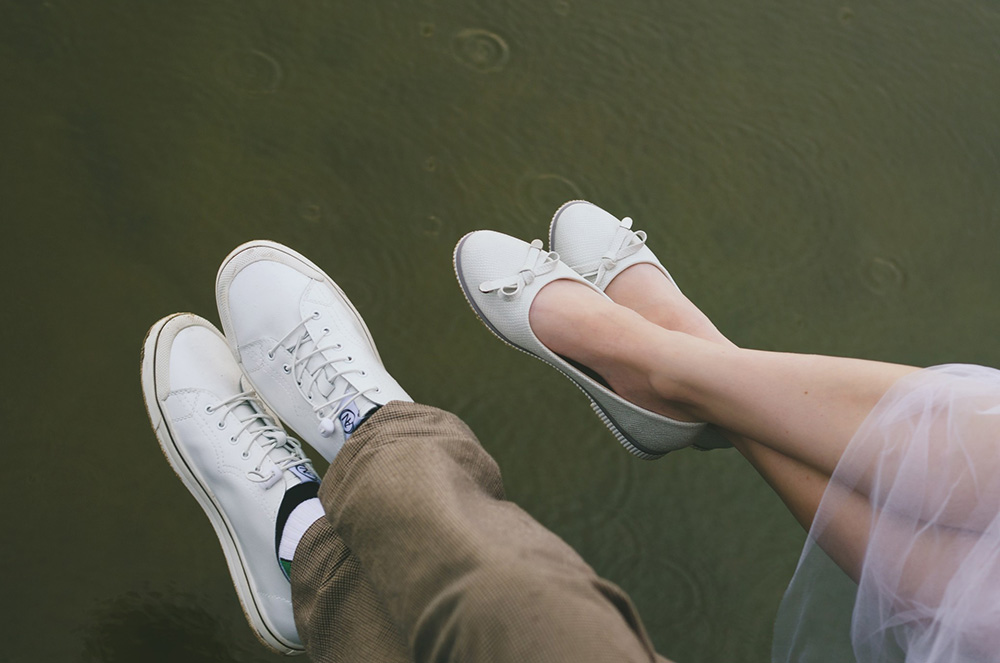 Maybe you want to get out of the heels, but you still want to dress your feet in style. Or maybe you're wearing a short dress, and you want to look visually elegant to all your guests. In either case, a pair of ballet flats might be a nice option. Flats are so versatile (you can wear them to work after the honeymoon!), and they come in endless options. Choose glitter flats or lacy flats for a chic look, or faux leather flats for a comfy shoe you can wear anywhere. Or get yourself a lacy pair of TOMS for their quality feel and timeless look.
Sandals
You might feel most comfortable in sandals. A simple pair of rose-gold flip-flops will make you feel right at home, while still looking cute. T-Strap Sandals look beautiful and feel great; a pair of rhinestone Gladiator Sandals give off cute vibes too. If you're the athletic type, and you want to make an investment in a shoe that will suit you for future adventures, try a pair of Merrell Mesh Sandals. You'll be ready for anything!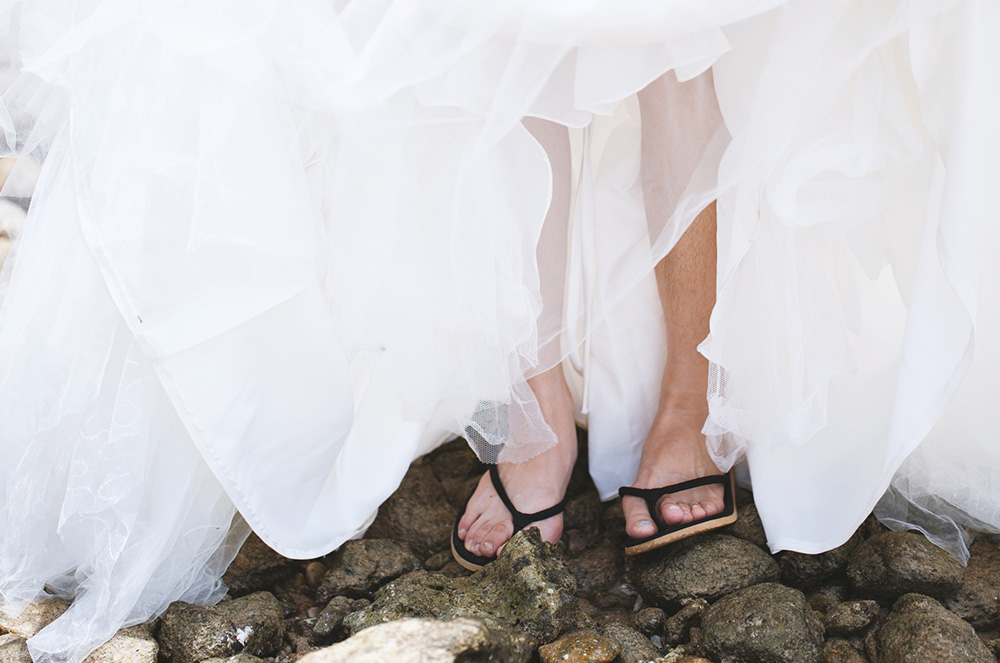 Dress the Crowd in Comfort
Looking for the perfect take-home gift for your reception guests? Give them a pair of dancing shoes! Chances are, you won't be the only one anxious to kick off your heels once the dance floor opens up. Keep things sanitary by giving your guests something clean to change into. But remember that one size doesn't fit all–choose a bulk option with pre-labeled sizes (less work for you!).
Slippers
And don't forget the most important pair of shoes to pack in your bag . . . a pair of fuzzy slippers, to help you kick back and relax once the craziness is all over! Make it extra fun by ordering a special pair of "I Do" Slippers (or order them for your whole "I Do Crew" to wear while you're getting ready together!).
Choose Comfort
Always remember: it's YOUR wedding day, and you have the freedom to dress however you please. The reception is your chance to celebrate with your loved ones, to kick off your new life chapter in an exciting way. Choose a post-ceremony shoe that you know and trust – a shoe that makes you feel carefree, ready to party the night away.
Check out our list of great aisle runners and our list of the best non-traditional wedding bouquets!