Camera cases to protect your investments
This page includes affiliate links. As an Amazon Associate I earn from qualifying purchases. Read more on our Affiliate Disclosure.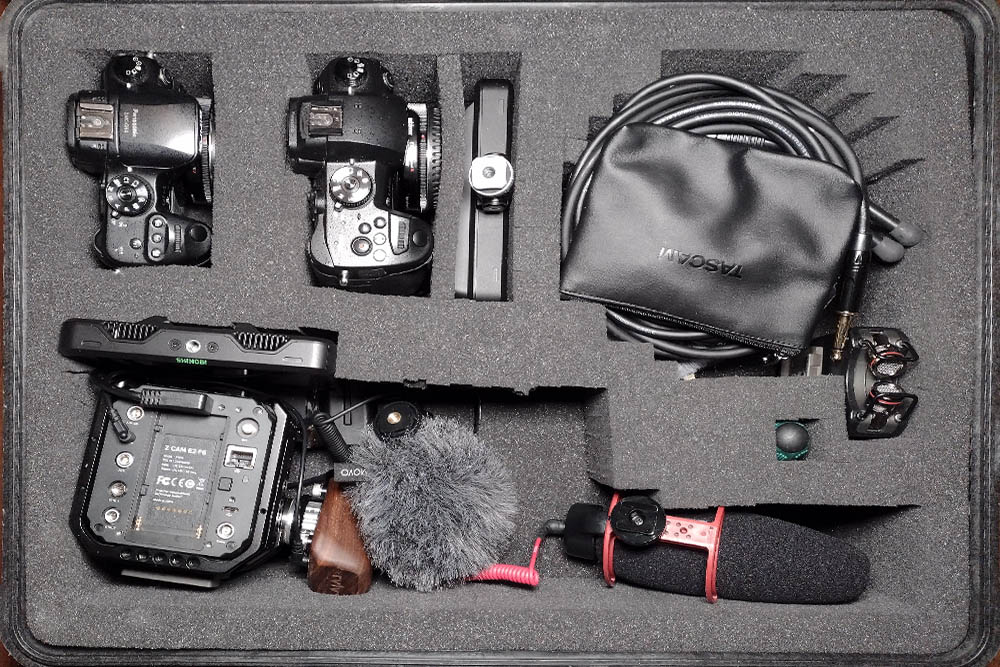 Soft cases
Soft camera cases are any type of bag or backpack made to hold your camera equipment. They're generally made out of canvas or synthetic material. They're very durable and are usually really lightweight, which makes for a great option if you are traveling light or only have a few pieces of camera equipment to bring with you.
Shoulder bags
Shoulder bags are what most people start out with. They're compact and small and can carry a camera body or two, along with the two or three lenses you might need. They slide right over your shoulder and allow access to your stuff in seconds. This shoulder bag from BagSmart is a great option! As your investments in equipment grow, you may find that these small shoulder bags work well for specialized equipment like your audio recorder and cables.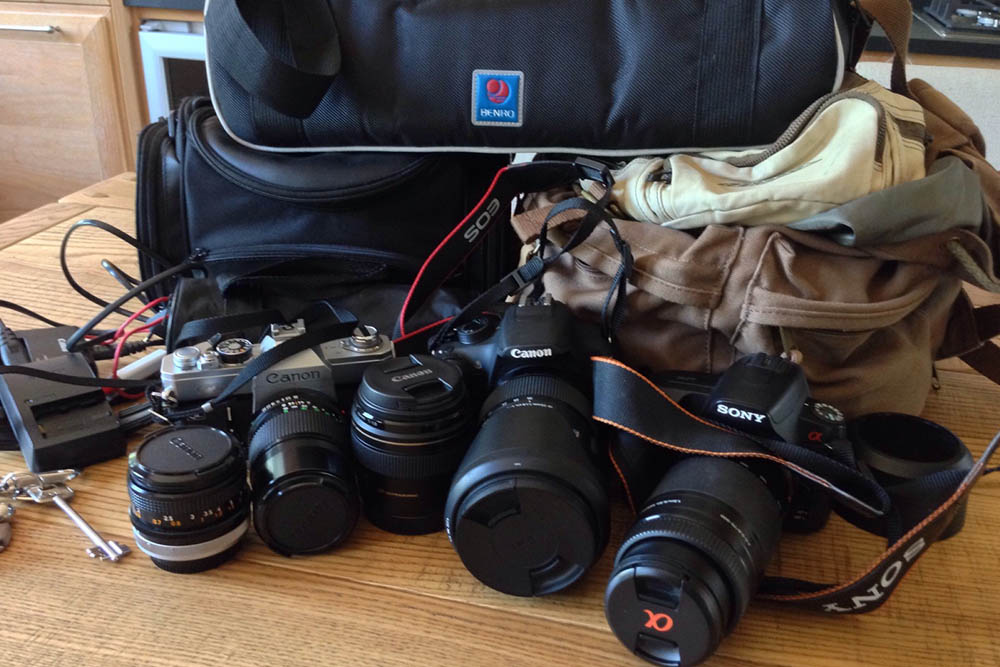 Backpack bags
Backpacks for cameras and lenses are another great choice. They're usually a bit bigger and allow you to carry more stuff comfortably, like this option from BagSmart. One feature to look for in a good soft case backpack is waterproofing. If you've made an investment into camera equipment, you want to make sure that what you're carrying that equipment in can repel water.
Tripod and light stand bags
Canvas or synthetic bags for tripods and light stands are a must. These long duffel-like bags are durable and long-lasting, and offer great convenience for toting around these awkwardly shaped pieces of equipment. Here's a great tripod bag from Neewer. But measure your tripods first to make sure the one you get is the right size. Your equipment will get marks and scuffs from general wear-and-tear, but the goal with these cases is to reduce any additional wear from moving them from wedding to wedding or shoot to shoot. Your equipment can last many years longer if you take good care of it. 
Hard cases
Hard camera cases for your camera equipment are the next step up from soft cases. These types of cases are usually made from a hard plastic, sometimes reinforced with glass fiber, fire retardant, and are generally 100% waterproof. If you've invested a significant amount of money into camera equipment, lenses, tripods, monopods and more, you need to secure these items safely. If you travel, a good rule of thumb is to spend between 5% – 8% of your equipment's value in cases to move it around. Spend less than that and the cases you find may not be good enough to prevent damage to your equipment.
There are many types of hard cases for camera equipment. Lower quality hard cases can suit you well if you live in a dry climate and aren't concerned about moisture. They're also quite affordable and a nice upgrade from soft cases. Higher quality hard cases like Pelican cases leave nothing to be desired. They come with world class waterproofing, padlock-ability, and, according to Pelican, are indestructible. I'm not sure about that last part, though they do say that on their website. There have been stories about Pelican cases surviving house fires and floods, which is why I use them exclusively.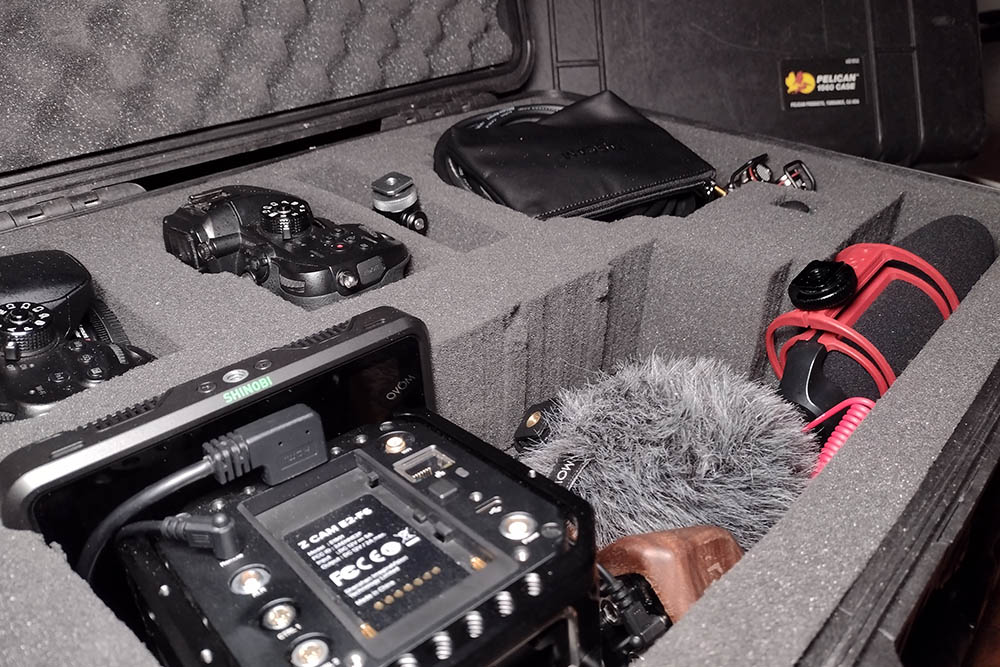 Traveling considerations
Traveling with your equipment to a wedding or shoot can be stressful, too. Will everything fit? What if my checked bag is singled out and they need to look inside? What are the restrictions for traveling with this type of equipment? For details about rules and restrictions, I encourage you to read what your specific airline allows and what FAA's restrictions are. For getting your equipment to where you're headed, there are a few things I would suggest.
First, in most cases airlines don't allow batteries in checked bags, so that means you're bringing the equipment with you in your carry-on. If that's the case, a wheeled bag or hard case is a great option. Secondly, you want something that can be secured with a lock. There are restrictions on the types of locks you can use, so make sure to read about that on the FAA's website. If your case can lock securely, can roll (if you'd like it to), the only other thing I would suggest is to make sure that it's strong enough to not damage your equipment. If you have all those bases covered, you're good to go!
Long term storage
If you're a wedding videographer or photographer you might have a busy season and an off season. If you have an off season, you likely store your equipment in your home for weeks or months at a time, in the off season. Home storage for equipment and miscellaneous cables, chargers, etc. can get messy. Keep everything organized in clean, dry, waterproof totes. These are stackable and won't allow any dampness, or any nibbly critters to get in.
If you're like me, you've accumulated lots of odds and ends, lots of cables, and lots of USB charging units over the years. For these smaller items I like to use these small stackable, clear totes. You can see right through them! That way you're not digging around and opening every tote up if you just need that one old-school iPad charger or that XLR to headphone jack adapter someone wants to borrow.
Longer lasting equipment means you don't have to replace it as often, and that means more profit for you. Taking good care of the items you've invested in and they'll provide an income for you for years to come. And remember: you get what you pay for! Spend an average of 5% – 8% of your equipment's value on cases to carry it in. You won't be sorry!