Wedding Day Guest Books: Find Your Style
This page includes affiliate links. As an Amazon Associate I earn from qualifying purchases. Read more on our Affiliate Disclosure.
Modern day guest books
Guest books today serve one main purpose – to give you a beautiful memory to cherish for years to come! The guest book you choose should fit your style and should be something special you get excited about. If your style is simple, maybe a clean guest book with a few Sharpie markers is a perfect fit. If you get excited at the idea of having people take pictures and put them in a book, go with that. There are so many options to choose from! Let's look at a few now.
Traditional guest book, pen and paper
There's no shortage of options to consider if you like the traditional guest book look. This simple white guest book with gold foil is a classic choice. A simple style like this one offers space for people to sign their name, along with a special note or message to you and your new spouse. That will give you lots to read over at each anniversary.
If white isn't your style, check out this classic black guest book. You want to really make sure that whatever choice you make fits with the overall decor of your wedding day. Black, white, patterned – there are a lot of choices to consider. Here are a few more that we like: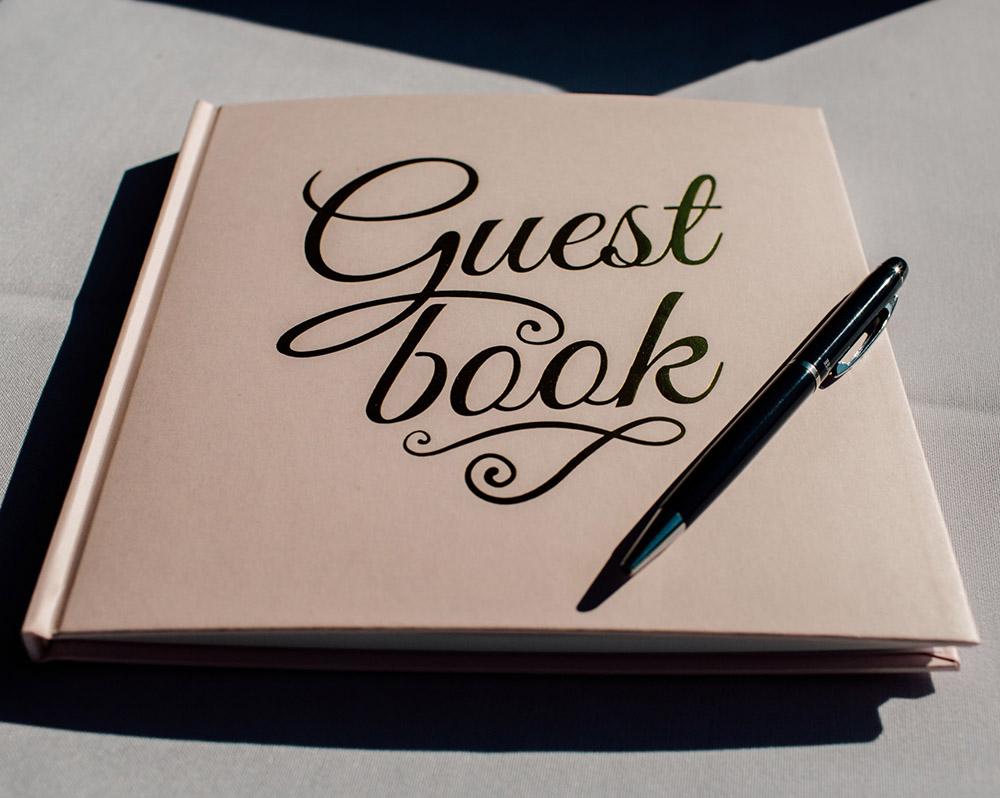 Camera guest books
We love guest books that incorporate cameras and pictures! They're such a cool addition to your wedding day, and they add a level of personalization that handwritten notes lack on. These setups usually consist of two main pieces: the guest book and a camera to take the picture.
In most cases, there will be more than one camera so your guests can all get through the guest book before the end of the night. And the guest book is a little more specialized to fit the pictures that the camera prints out. With these two items on the table, your guests are sure to have a great time taking pictures for your guest book! And it's always such a great surprise to see what everyone's pictures look like the next day.
Another thought to consider if you're not liking the idea of the "Polaroid" type cameras is to get a bunch of disposable cameras to put on the table. Guests like this too, and it's a great way to ensure that the film isn't being wasted all night by the younger cousins. Disposable cameras are fairly cheap, so why not get one for every table at the reception and tell guests to take pictures all night!
Themed guest books
Maybe you're having a themed wedding and want the absolute perfect guest book to pair with your big day. If you can dream it, it exists! Got a princess themed wedding? There's a guest book for that. If you're having an outdoor themed wedding, there's a guest book for that. Rustic wedding? Yep, there's a guest book for that. Have a look for yourself and see if you can find one that will fit your wedding theme:
Wood, picture/frame, centerpiece
Some couples want to take the guest book one step further and have their guests play a role in creating something that will be displayed in their future home together. An everyday reminder of their wedding day. These pieces of art can come in the form of many different things. Here are a few that we've seen and really loved.
The Heart Wooden Drop Box gives the guests a little wooden heart to write their names on. Once the guest is done, they drop the little heart into a bigger heart that dons the initials of the bride and groom. The whole piece will then be hung on the wall to admire after the wedding. Such a beautiful idea!
The Customized Wooden Platter is a similar option, but instead of lots of little pieces to worry about, the platters offer an option for guests to sign the piece directly. The platter is customized with the bride and groom's names, and is easily affixed to the wall of their home.
The Classic Frame Guest Book offers guests to sign their name around a picture of the bride and groom. This is an affordable option that gives them a memory to look at each day.
Guest book accessories, markers
Once you've selected your guest book of choice, you can't forget these few important pieces.
You'll need to give your guests something to write on the guest book with. We've seen the most success with thin tipped markers. The choice of black or silver is up to you, so consider what the background the guests will be writing on is. If it's darker, then silver is a great choice. If it's paper or light colored wood, then go with black.
Then, make sure you have a good table cloth to put everything on. This helps set the tone of the space. Make sure that it fits the theme or decor of your wedding. There are many material and color options to consider. Here are a few that we like:
Guest book table, decorations
Now that you've got your guest book, your makers, and your table cloth, it's time to decorate your guest book table. Overall, you want to match the decor of your wedding day. So the types of flowers you're using, the small decorations, etc. you'll want on this table too! A few things that we've seen and really fell in love with are actually pretty simple!
Candles are a great option. There are so many to pick from, but we would consider these realistic mock candles. They're super safe but give that real candle look.
Guest books are an important part of your wedding day. Pick the one that fits your style and will give you the most satisfaction looking back on each year that you're married. There's no need to break the bank – just get creative!

Have you heard of Prints of Love? We've partnered with them to offer fast, high quality yet affordable printing. Plus free 2-3 day U.S. shipping and free envelopes! Simply follow this link: https://printsoflove.com/ref/aglmediaco/ to select your print options. They handle the rest!