Sparkler Exit for your Wedding Day? 7 Essential Tips to Consider
This page includes affiliate links. As an Amazon Associate I earn from qualifying purchases. Read more on our Affiliate Disclosure.
When it comes to wedding exits, a tunnel of sparklers sure does create a breathtaking moment – and some amazing photos! But only if some essential preparation happens in advance. Done right, a sparkler exit can be a fun celebration for your guests, and create incredible photos and video footage. In this article, you'll find some important factors to consider as you're organizing your glittering getaway.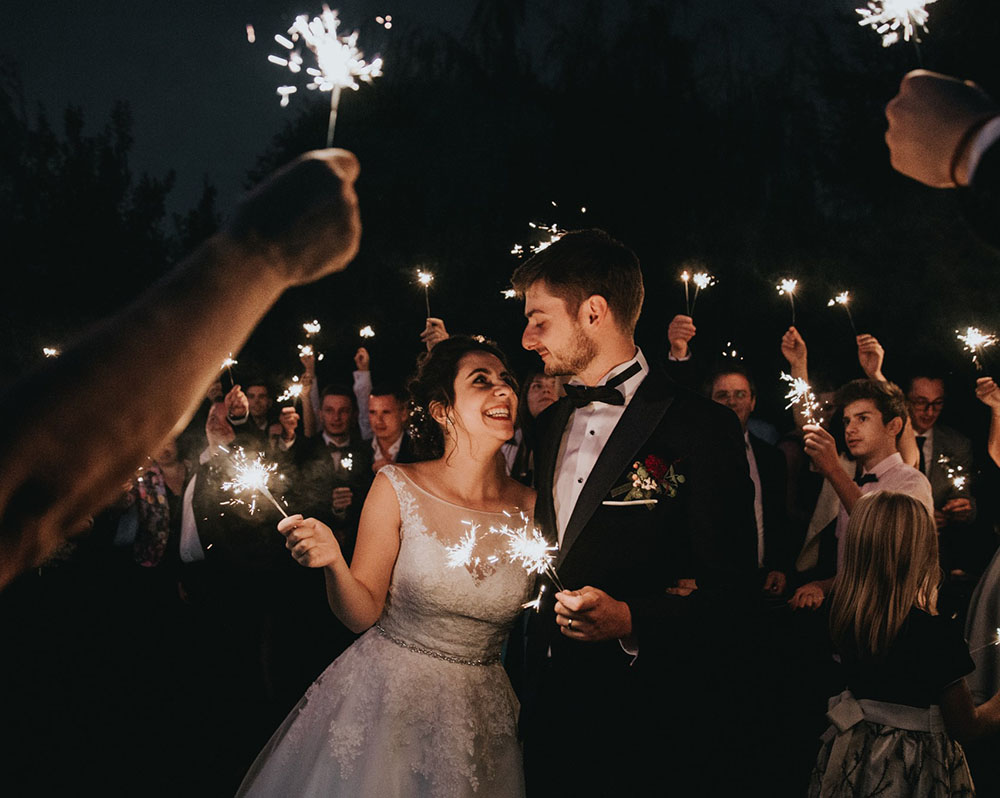 Tip #1: Be Organized
Nothing kills the vibe of a sparkler exit like a big crowd of lost people, swarming in all directions because no one told them where to go or what to do. Before you even consider a sparkler exit, figure out a point person who can take charge of this part of the day.
Maybe you have a Wedding Coordinator who can handle it. Someone in your bridal party or a family member with a commanding presence will work great, too. Talk with your photographer / videographer, or even the director of your reception venue – most likely, they've participated in a sparkler exit before and they can easily provide the direction needed.
A sparkler exit can quickly turn from an enthusiastic idea into an explosion of chaos. When too many people are involved (or worse, when NO ONE takes charge), confusion runs rampant. Think ahead and avoid turmoil by designating the person in charge.
Tip #2: Buy the Right Sparklers
Unfortunately, we've been to a few weddings where the first guests to light their sparklers are left with burnt out sticks by the time the couple even makes it down the tunnel. If you want your sparkler exit to happen seamlessly (with ALL guests wielding sparks in your photos and video), it's essential to buy long sparklers.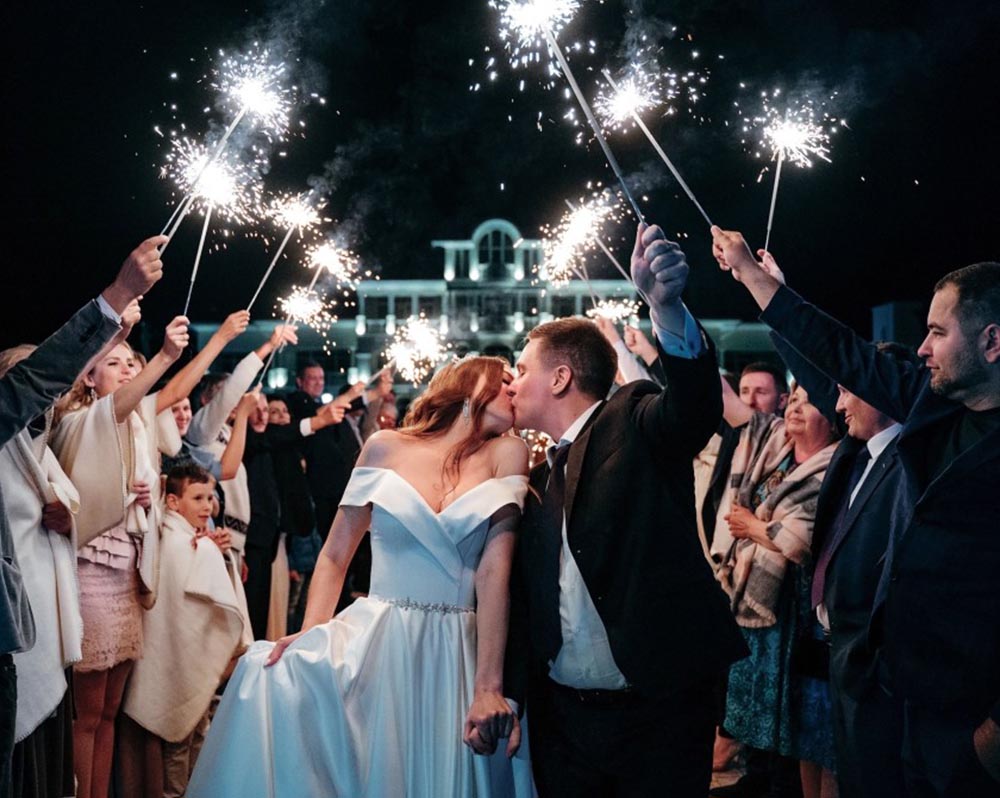 Anything less than 18-20 inches will simply not give you enough "light" time (unless you have a very small attendance). Consider all the obstacles your guests will face while getting the sparklers going. Getting into formation, wind, malfunctioning lighters, children who need help. Plus the amount of time it takes to "pass the spark" along the line. By purchasing extra long sparklers, you ensure that you'll have enough time to arrange the exit and get the photos you want. A 20-inch sparkler will provide about 2 minutes of light time, while a 10-inch sparkler will only provide about 40 seconds (source: weddingsparklersoutlet.com).
A note about high attendence weddings and long exposure photography using sparklers
For couples with an extra-large wedding attendance, 30 inch sparklers provide you with even more time. And for couples who want to experiment with long exposure photography, 36 inch sparklers are the way to go.
Check out Wedding Sparkler Outlet for all sizes:
https://www.weddingsparklersoutlet.com/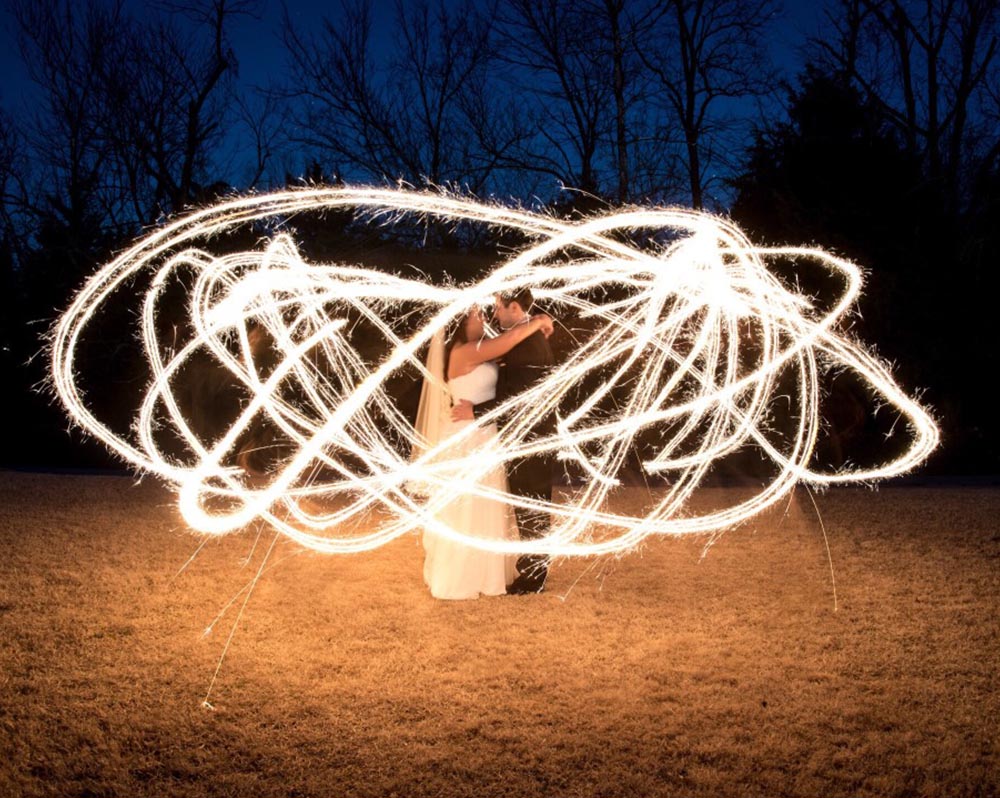 Tip #3: Have the Essentials in Place
For a sparkler exit to work, you need more than just sparklers. Make sure you have these other items on hand:
Multiple lighters (long neck lighters with a trigger, not cigarette lighters. The best option is butane lighters. They light the sparkler best).  Get at least 6 – one for each end of the line, plus two for the middles of the lines.
Galvanized buckets, filled with water – for guests to place their sparklers safely into afterward.
Fire extinguisher – be on the safe side and know where the nearest fire extinguisher is.
You may also want to set up a display table with a framed instruction board, so that guests know what to do.
Some companies sell ready-made sparkler kits that include all the necessary supplies to make it happen. Consider saving yourself some time (and cost) by purchasing all your necessities in a kit.
Tip #4: Resist Gimmicky Sparkler Exit Temptations
Look up "wedding sparklers" on Amazon, and you'll find a slew of products aimed toward making your sparkler exit Insta-perfect. But when it comes to nailing the sparkler exit, we believe methods are best left to the tried-and-true. Here are a few gimmicks to avoid:
Shaped Sparklers. Heart-shaped sparklers are cute in theory, but since they are shaped, they are shorter in length – which results in less light time.
Tags with Match Strikers. In our experience, these just never work. The match strikers are often flimsy and hard to get a spark from. Not to mention there's often nowhere to quickly put the used matches – so they end up getting thrown on the ground (translating to more cleanup work). Save yourself the chaos and purchase regular lighters instead.
Tip #5: Consider the Timing and Space
Depending on the season of your wedding, darkness will fall at a different time of day. Look ahead at the sunset time on your big day, to determine the best timing for your exit. Keep in mind that photos and video will look most dramatic when the sparklers are done in darkness. But your photographer and videographer can probably make it work in daytime, too. If you have guests that are likely to scoot out of the reception early in the night, consider doing a "fake" sparkler exit in the middle of the reception (like right after dinner). This makes sure that your crowd will still be around. For those with guests who are ready to party all night long, waiting until the end of the night for a "real" sparkler exit will work just fine.
You'll also need to consider the amount of space you have to work with at your venue. Is there an open spot, preferably along an established pathway, where your guests can easily line up? Is the path wide enough to accommodate the length of the sparklers?
Tip #6: Communicate the Sparkler Exit with Your Vendors
A sparkler exit is most definitely something that needs to be included on your day-of schedule, and communicated well in advance with your vendors (photographer, videographer, DJ, and venue director). Giving this information ahead of time allows your vendors to make proper preparations. It is especially important to check with your venue director, as some venues may have stipulations or rules against sparkler exits.
Tip #7: Put on a Show
You've seen the amazing images on Pinterest, and you want your own wedding photos to be just as spectacular. In order to capture incredible moments, be prepared to work with your photographer and videographer to put on a good show.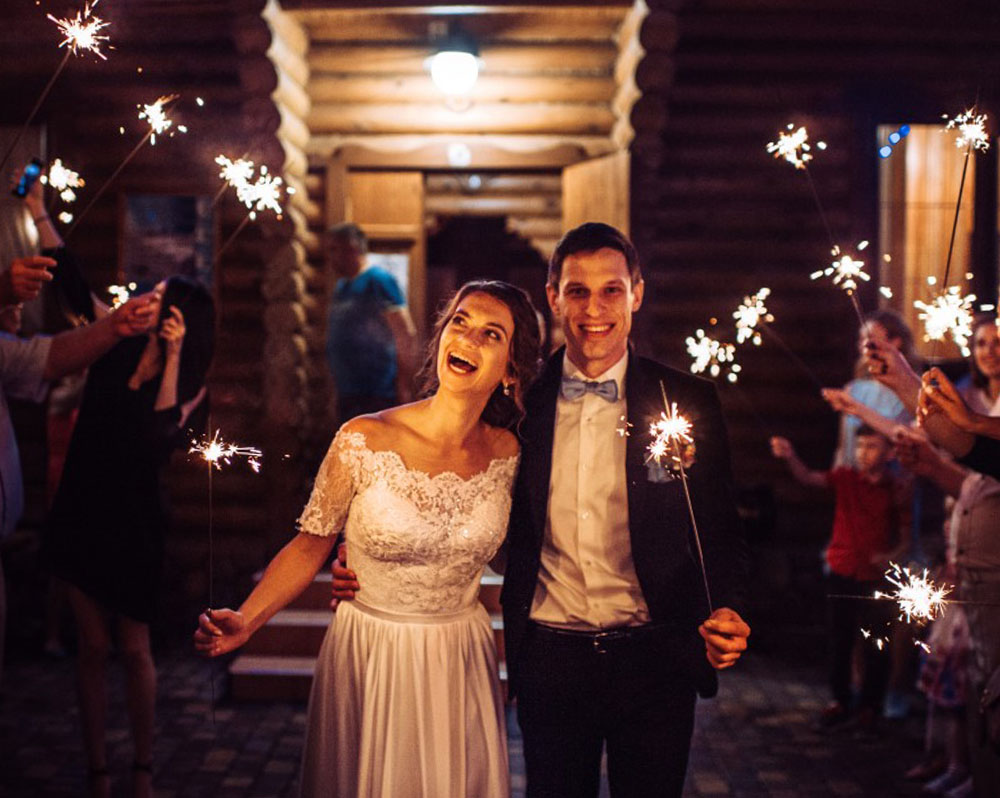 Have some poses in mind, and be prepared to go through the tunnel multiple times to capture the best shots. Additionally, talk with your photographer about sticking around afterward and saving two sparklers just for the two of you, to get some intimate posed photos.
The Perfect Getaway: Sparkler Exit
With a little preparation, a sparkler exit could be the perfect way to end your wedding day. Don't allow it to become a stressful experience for you or your guests. Make a detailed, thought-out plan well in advance so that your guests have the direction they need to make it spectacular.
View our other popular blog posts!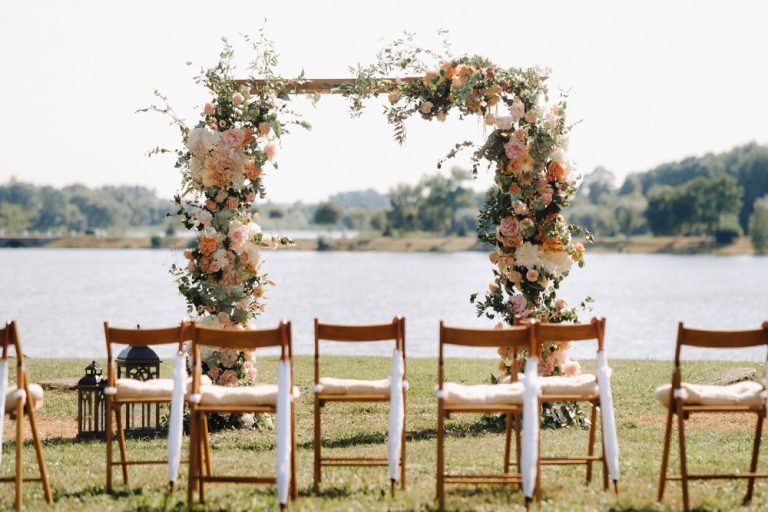 Choosing a wedding venue is one of the most important decisions you'll make during the planning process. The right venue will set the tone for your entire wedding, so it's important to take your time and find a place that's perfect for you.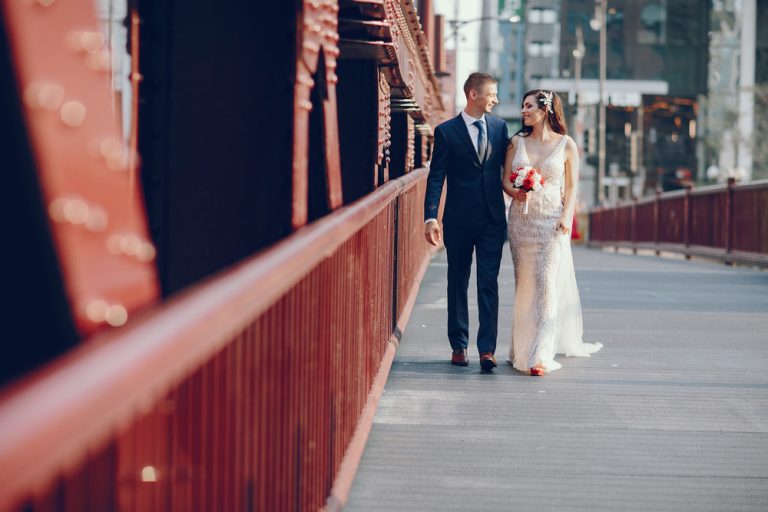 The average wedding cost in the United States is $30,000. However, the cost can vary depending on the location, guest list, and other factors. If you're planning a wedding, you're probably wondering how you can save money. Here are a few tips.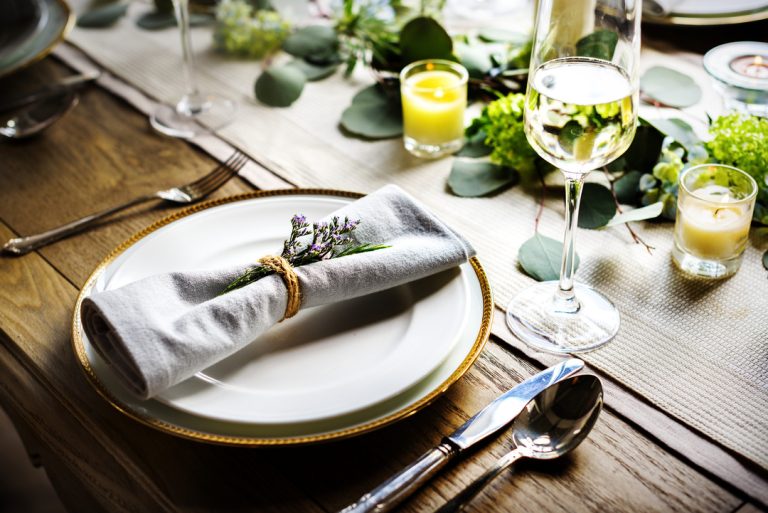 Amazon has become a go-to online marketplace for all types of wedding supplies. Here are some of the most popular wedding products on Amazon.