Tripods and Monopods for Wedding Videography
This page includes affiliate links. As an Amazon Associate I earn from qualifying purchases. Read more on our Affiliate Disclosure.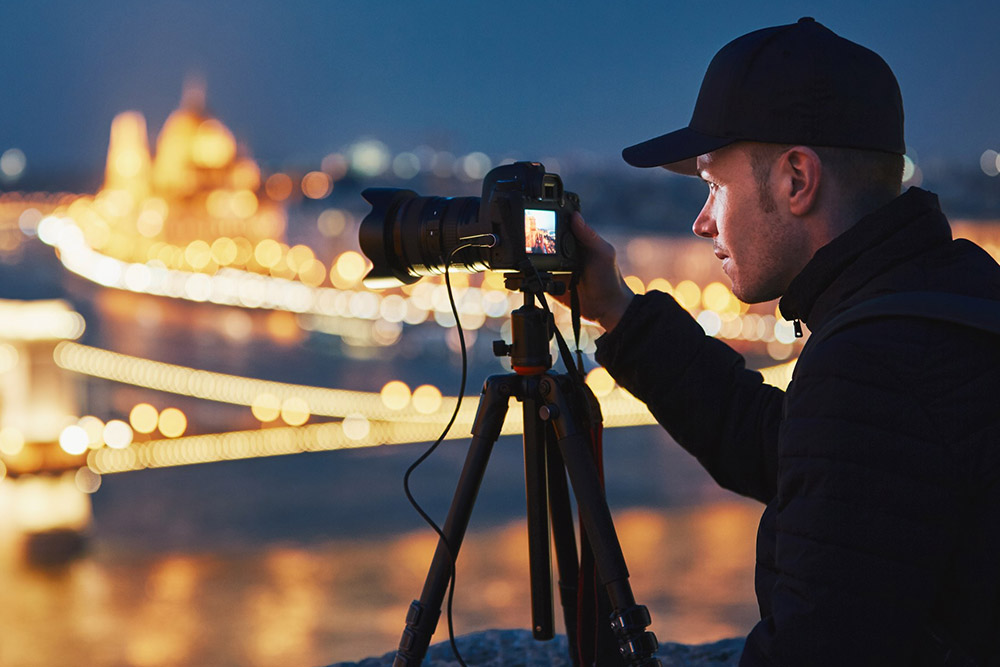 Tripods and monopods are two of the most important pieces of equipment you can have in your wedding videography kit. Getting stable shots when needed is pivotal to your success, and will set your work apart from others. Like much of wedding videography, stable shots are something that you might never notice until you see an unstable shot. A shaky shot can leave your couple questioning the quality of your work, and that's never good for future business and referrals.
The basics of tripods and monopods
The basic anatomy of a tripod starts with the legs. As designated by their names, a tripod has three legs and a monopod has one. Both serve their own purposes, but the key point to look out for when considering specific models is the presence of solid, rubber feet. These feet help make the connection between the tripod and the ground very sturdy.
The next part of the tripod and monopod to consider is the head. The head sits on top of the legs and mounts to your camera. There are a few types of heads: fluid heads, ball heads, and pan and tilt heads. These are the most common heads used in wedding videography.
Fluid heads
Fluid heads like the Manfrotto MHXPRO-2W XPRO make panning and tilting easy on the fly, while you're recording. Smooth movements are easy with a fluid head.
Ball heads
Ball heads offer the widest range of motion, giving you 360 degrees of movement. The downside to these is that they can't be changed once the camera is recording or you'll see camera shake. Consider the Neewer Professional Metal 360 Degree Rotating Panoramic Ball Head for a medium quality option in an affordable price range.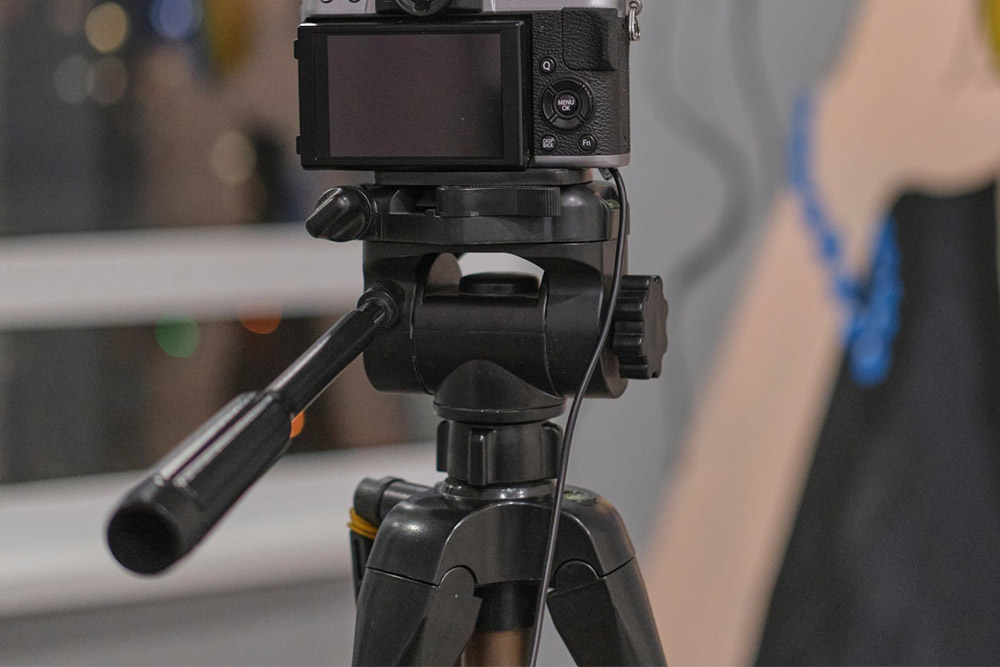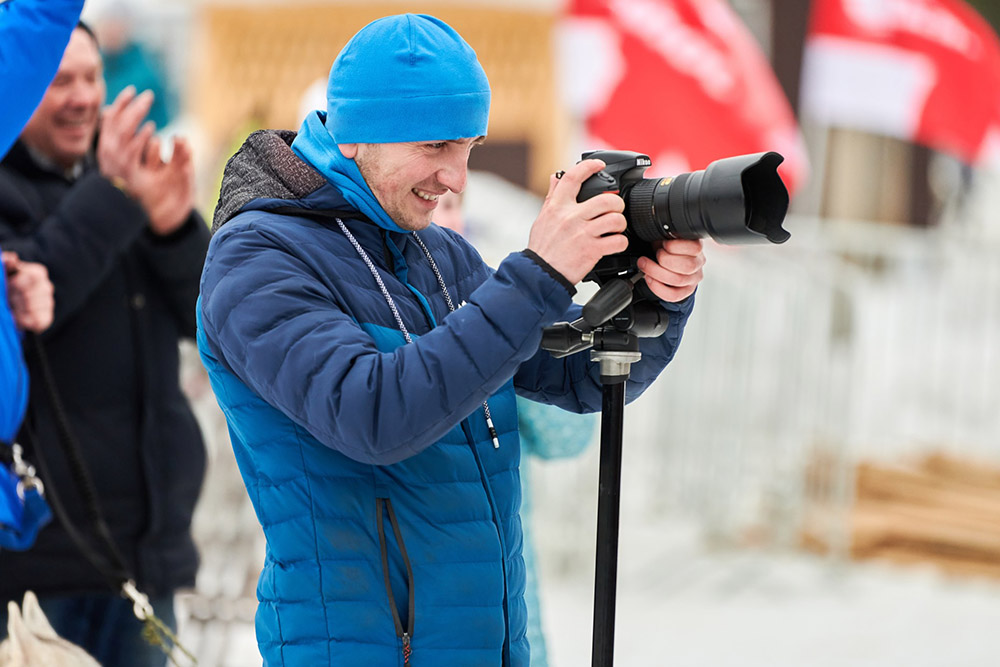 Pan and tilt heads
Lastly, pan and tilt heads like this option from SmallRig might be a good option if you have unique angles you'd like to capture along the horizontal and vertical planes, and don't need to move your head during recording.
Types of tripods and monopods
Compact
Tripods and monopods come in many different shapes and styles, but I've found that only a few fit the need of the modern wedding videographer. Most tripods these days are considered compact. Manufacturers do a great job of taking our available space into consideration. These products tend to be made from steel or aluminum, like this Manfrotto 290 Xtra Aluminum 3-Section Tripod, and are usually a little heavier. That's not necessarily a bad thing. The extra weight can make your shots more stable in a medium or heavy wind. A tripod that telescopes down into a space-saving form is a great option. Note the locking mechanisms the legs use. I've found that some of the cheaper options don't allow for tightening of the leg lockers, which can cause serious issues later on down the road if they come loose. 
If you're like me in my early years of wedding videography, you may have used a monopod before. Consider trying one like the Fluid Head Tripod, COMAN Video Camera Tripod Monopod. This has the capability to transform into both a tripod and monopod. Here's another option like this from Neewer: Neewer 2-in-1 Aluminum Alloy Camera Tripod Monopod
Ultralight
Ultralight varieties of tripods and monopods are often made from carbon fiber, like these Manfrotto legs. In most cases they have the same features of their steel or aluminum counterparts, but if you're looking to shave pounds off of your equipment list, these carbon fiber options are the way to go.
If you're looking for a great monopod option to consider, this high quality Manfrotto Video Monopod XPRO+ is a great choice that will last for years.
Heavy-duty tripods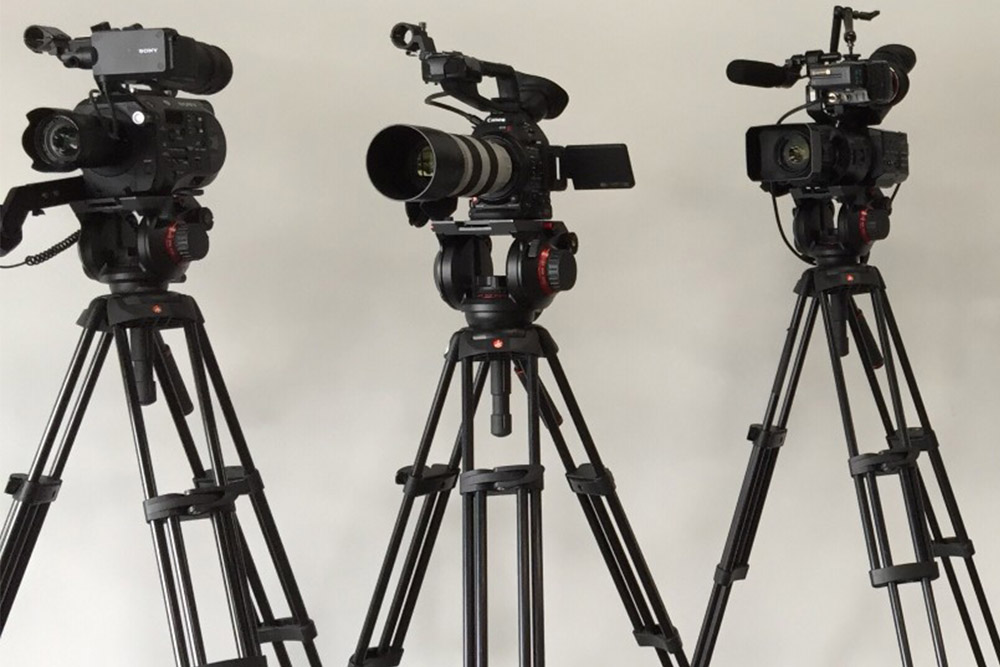 If you're using a heavy camera or are anticipating gusty winds, a heavy-duty tripod, like this Neewer Professional, is worth considering. These tripods have similar telescoping legs, but they're generally built in a way that can withstand much more weight. You might see movie cameras on these types of heavy-duty tripods.
The most useful tripod and monopod features
High quality
Over the years I've used a lot of tripods and monopods in wedding videography. The best advice I can give about choosing one of these pieces of equipment is that you should go with something high quality. The phrase "you get what you pay for" is true when it comes to these tools for wedding videography. Lower quality tripods, like this Amazon Basics 60-Inch Lightweight Tripod, may get you through in a pinch, but if you're looking to buy a piece of equipment that will last, high quality is the way to go. A great option that will last for seasons filming weddings is the Manfrotto 290 Xtra Aluminum 3-Section Tripod Kit with Fluid Video Head.
Quick release plates
Another extremely useful feature to look for is the quick release plate. This feature, found on the head, allows you to quickly change what your camera is mounted to. When all of your tripods and monopods all use the same quick release ecosystem, you can switch between your tripods and your monopod without needing to change the plate mounted on your camera. This is very helpful. I use the Manfrotto XPRO Fluid Head with Manfrotto quick release plates.
Fast leg extension
Manfotto has released a new tripod and monopod using their proprietary FAST technology. This allows you to extend and retract the legs of their equipped products very quickly. If that tech is out of your price range, consider what lockers are used on the legs you're considering and check the comments to see if other people have had issues with them in the past. The last thing you want to be doing is awkwardly adjusting your tripod or monopod leg height slowly in the height of the action.
Weight
Lastly, consider the weight of your equipment. If the tripod or monopod, head, plate, and full camera setup is 15 pounds, take a 15 pound weight and see what that really feels like to carry for 30 minutes. If it's challenging, consider areas to reduce weight. One easy area is your stabilizing equipment. Upgrade from steel to carbon fiber. Get a smaller head. There are lots of options to consider.
When to put the tripods and monopods down
Tight locations
In a lot of circumstances a tripod or monopod just won't do. A small bathroom vanity, a room with high carpet, or a naturally lit hallway all have great potential to make an important shot in your sequence, but if you try to set equipment up in these places, the mood changes. Consider going handheld in locations like this.
When you need motion
Tripods and monopods are great at keeping your shots stable and add nice panning movement, but if you're looking for cinematic motion, they can inhibit creativity. When you know you need some slight movement, put this equipment down and get your shots handheld.
Intimate times
During touching moments like the portrait shots and private slow dances, consider putting your tripod down and grabbing your monopod if you need it. The monopod takes up less space and can be more useful to you if you're moving around getting the unique shots you need. I use the Sirui Carbon Fiber Photo/Video Monopod and I love it. It comes highly recommended.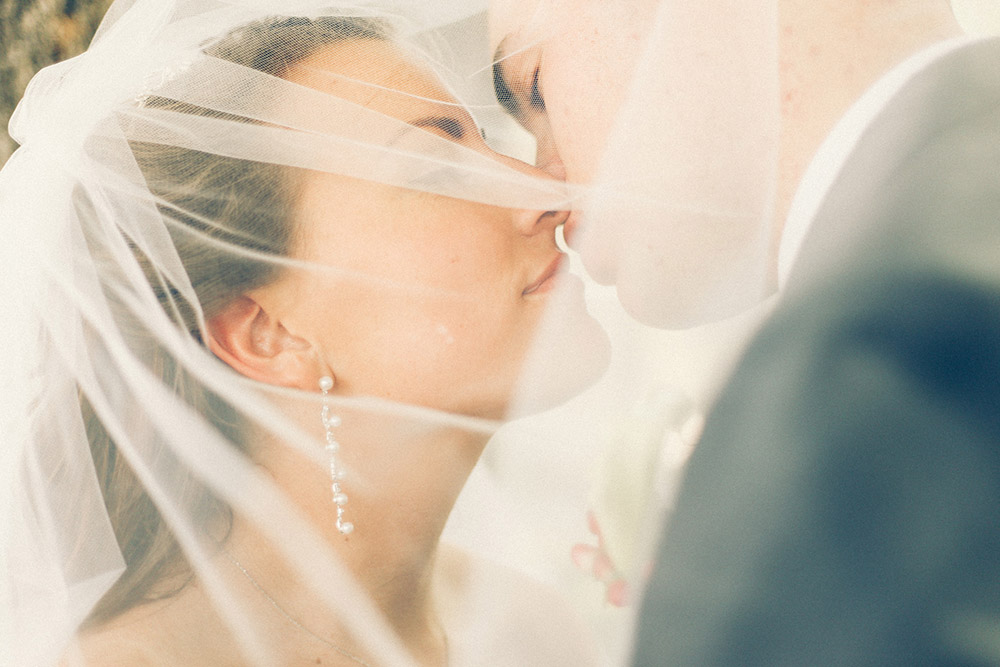 When timelines are condensed
A wedding day can go by very quickly, and you should be fluid and willing to change directions when needed. If you have a bunch of equipment set up all over the place it can be hard to make accommodations. If you don't need to have your tripod and monopod set up, go ahead and pack them away. Be respectful of the space and give your couples the least obtrusive experience you can.
But don't sacrifice quality for time
These last few points might make it seem like I don't like tripods and monopods, and that's just not true. Like all the tools in the toolbox, everything has its use. If you need it, use it! If you don't need it, put it away. Filming weddings effectively and efficiently is all about time and space management. Never sacrifice the quality of your videos for the time it takes to properly use your equipment. Don't shoot the full ceremony handheld – it won't look professional. In the same sense, don't shoot all your creative shots on a tripod – it won't look professional. Make the best equipment choice you can for the given circumstance.
You can always rent gear and try it out before you buy it at borrowlenses.com, too.
Learn more about choosing the right camera and picking the right lenses for wedding videography.